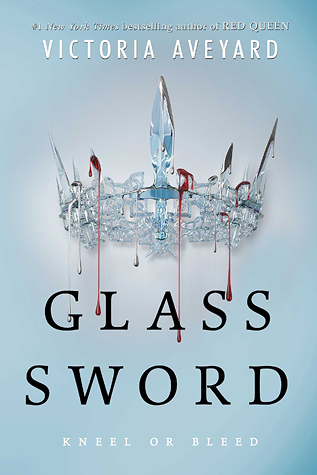 Publication Date: February 9th 2016
Blurb:
Mare Barrow's blood is red—the color of common folk—but her Silver ability, the power to control lightning, has turned her into a weapon that the royal court tries to control.
The crown calls her an impossibility, a fake, but as she makes her escape from Maven, the prince—the friend—who betrayed her, Mare uncovers something startling: she is not the only one of her kind.
Pursued by Maven, now a vindictive king, Mare sets out to find and recruit other Red-and-Silver fighters to join in the struggle against her oppressors.
But Mare finds herself on a deadly path, at risk of becoming exactly the kind of monster she is trying to defeat.
Will she shatter under the weight of the lives that are the cost of rebellion? Or have treachery and betrayal hardened her forever?
Review:
I began writing this review and I realized that anfeboibwefsnowpnwa isn't a professional way to review it even though it sums up my feeling perfectly for this book and especially the ending. You thought the cliffhanger in Red Queen was bad? Ha ha. Read this one. And probably the cliffhanger in the third book will be the worst because it will lead to the finale. So, I am just going to give you an advice, Wait for the other books. Yeah, I know it's impossible, but now I have to wait a year to read the continuation and I don't think I can take it. The final scene was the best way to leave the reader hanging. I will cross my fingers and hope for an ARC of the untitled book 3.
I found myself thinking that if some of the most popular and favorite YA books like The hunger games, Twilight, Divergent and the Selection had a baby that baby would probably be Glass Sword. That is a great thing for me. The writing is compelling as its own, but add a mix of the things I love and I am sold.
The plot is filled with action an new information so if you begin this book make sure that you have plenty of free time ahead of you. You don't really want to stop reading. At least I didn't. I am not sure where we are standing when it comes to the Reds and Silvers. Things are so uncertain at the moment. I guess team new bloods have the lead in this poll.
I always pictured Maven looking exactly like Loki. I don't know why, but that's the image I have of him in my mind. He is also the only character I have an image of in my head. The others have changed once or twice. I never thought that he was going to be the villain when I read Red Queen, but he has proven that he is ruthless more than once. Cal is my favorite of all the male characters. I thought that I wouldn't like him, but he has proved that he is more than the soldier who is focused only in the battle. I really want some of his point of view because I am still not 100% on where he is standing even though he has proved plenty of things.
I can see Mare dying in the end. Don't get me wrong, I like her, but for some reason I am making peace with that idea and it doesn't bother me. I believe that I can live with that sacrifice. For most of the book she is trying to do her best, to save people and that's costing her. She is ready to shatter as she says and even though I want her to prove herself wrong, I am waiting for the worst to come.
I am a romance junkie and I usually go for books that have plenty. Glass sword had almost no romance and I was completely ok with that because everything else was more important than that and I didn't complain once which is so not me. I don't know about you, but I ship Cal and Mare. I liked them in Red Queen and I liked them in Glass Sword despite everything they said to each other.
The secondary characters are unique and they can hold the reader's interest without having Mare in the scene. I wouldn't mind if the author filled some pages with Mare interacting more with them. Tons of new characters appear in this book, but we don't really get the chance to get to know them because the person telling the story is more focused on raw rebellion rather than chatting.
I am hoping to see more Cal in the third book and have a clear picture on the romance side because the love square was tiring even if it was reduced to a triangle of sorts. I don't know what's wrong with YA heroines. I am also hoping for a release day on books 3 and 4 that won't be too far into the future because the cliffhangers are getting worse. Read at your own risk.