Historical Romance has always been a favorite genre of mine. I thought I should share my top ten series and read what's yours. Most of the books are set in the Regency era or in the first 30-40 years of the 19th century.
10. Brothers Sinister series
by Courtney Milan
GR link: https://www.goodreads.com/series/74729-brothers-sinister
The first Book in the series is The Governess Affair (#0.5). Here is the blurb:
She will not give up…
Three months ago, governess Serena Barton was let go from her position. Unable to find new work, she's demanding compensation from the man who got her sacked: a petty, selfish, swinish duke. But it's not the duke she fears. It's his merciless man of business—the man known as the Wolf of Clermont. The formidable former pugilist has a black reputation for handling all the duke's dirty business, and when the duke turns her case over to him, she doesn't stand a chance. But she can't stop trying—not with her entire future at stake.
He cannot give in…
Hugo Marshall is a man of ruthless ambition—a characteristic that has served him well, elevating the coal miner's son to the right hand man of a duke. When his employer orders him to get rid of the pestering governess by fair means or foul, it's just another day at the office. Unfortunately, fair means don't work on Serena, and as he comes to know her, he discovers that he can't bear to use foul ones. But everything he has worked for depends upon seeing her gone. He'll have to choose between the life that he needs, and the woman he is coming to love…
9. Highland Pleasures series by Jennifer Ashley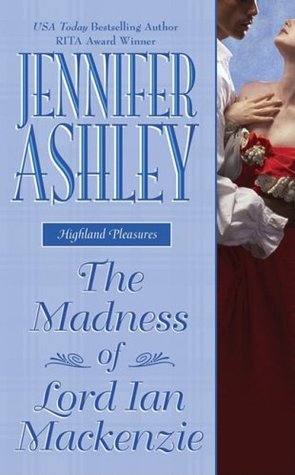 Rich, powerful, dangerous, eccentric. A lady couldn't be seen with them without ruin. Rumors surround them--of tragic violence, of their mistresses, of their dark appetites, of scandals that set Victorian England and Scotland abuzz. Hart, Cam, Mac, and Ian: each a tortured genius, each ready for love and darkly sensual games.

This series, set in England and Scotland in the 1880s, presents the romances and adventures of the Mackenzie clan. Each book stands alone, but they are most enjoyable when read in order.
The first book in the series is
The Madness of Lord Ian Mackenzie. Blurb:
The year is 1881. Meet the Mackenzie family--rich, powerful, dangerous, eccentric. A lady couldn't be seen with them without ruin. Rumors surround them--of tragic violence, of their mistresses, of their dark appetites, of scandals that set England and Scotland abuzz.
The youngest brother, Ian, known as the Mad Mackenzie, spent most of his young life in an asylum, and everyone agrees he is decidedly odd. He's also hard and handsome and has a penchant for Ming pottery and beautiful women.
Beth Ackerley, widow, has recently come into a fortune. She has decided that she wants no more drama in her life. She was raised in drama--an alcoholic father who drove them into the workhouse, a frail mother she had to nurse until her death, a fussy old lady she became constant companion to. No, she wants to take her money and find peace, to travel, to learn art, to sit back and fondly remember her brief but happy marriage to her late husband.
And then Ian Mackenzie decides he wants her.
8.
Stud Club series By Tessa Dare
The first book in the series is One Dance with a Duke
In One Dance with a Duke--the first novel in Tessa Dare's delightful new trilogy--secrets and scandals tempt the irresistible rogues of the Stud Club to gamble everything for love.
A handsome and reclusive horse breeder, Spencer Dumarque, the fourth Duke of Morland, is a member of the exclusive Stud Club, an organization so select it has only ten members--yet membership is attainable to anyone with luck. And Spencer has plenty of it, along with an obsession with a prize horse, a dark secret, and, now, a reputation as the dashing "Duke of Midnight." Each evening he selects one lady for a breathtaking midnight waltz. But none of the women catch his interest, and nobody ever bests the duke--until Lady Amelia d'Orsay tries""her luck.
In a moment of desperation, the unconventional beauty claims the duke's dance and unwittingly steals his heart. When Amelia demands that Spencer forgive her scapegrace brother's debts, she never imagines that her game of wits and words will lead to breathless passion and a steamy proposal. Still, Spencer is a man of mystery, perhaps connected to the shocking murder of the Stud Club's founder. Will Amelia lose her heart in this reckless wager or win everlasting love?
7.
McCabe Trilogy by Maya Banks
The first book in the series is
In Bed with a Highlander
Maya Banks' beguiling new trilogy features three unforgettable brothers risking everything to save their clan and their legacy—and to surrender their hearts to love.
Ewan McCabe, the eldest, is a warrior determined to vanquish his enemy. Now, with the time ripe for battle, his men are ready and Ewan is poised to take back what is his—until a blue-eyed, raven-haired temptress is thrust upon him. Mairin may be the salvation of Ewan's clan, but for a man who dreams only of revenge, matters of the heart are strange territory to conquer.
The illegitimate daughter of the king, Mairin possesses prized property that has made her a pawn—and wary of love. Her worst fears are realized when she is rescued from peril only to be forced into marriage by her charismatic and commanding savior, Ewan McCabe. But her attraction to her ruggedly powerful new husband makes her crave his surprisingly tender touch; her body comes alive under his sensual mastery. And as war draws near, Mairin's strength, spirit, and passion challenge Ewan to conquer his demons—and embrace a love that means more than revenge and land.
6. Ugly Ducklings series by Manda Collins
The first book in the series is How to Dance with a Duke
What's a wallflower to do when she's suddenly in need of a husband? Use all the pluck and moxie she can muster to get what she wants…
Miss Cecily Hurston would much rather explore the antiquities of Egypt than the uncharted territory of marriage. But the rules of her father's exclusive academic society forbid her entrance unless she weds one of its members. To clear her ailing father's name of a scandalous rumor, Cecily needs to gain admission into the Egyptian Club—and is willing to marry any old dullard to do it.
Lucas Dalton, Duke of Winterson, is anything but dull. He's a dashing and decorated war hero determined to help Cecily—even if that means looking the other way when she claims the dance card of Amelia Snow, this season's most sought-after beauty. But Lucas has a reason for wanting Cecily to join the Egyptian Club: His brother went missing during one of Lord Hurston's expeditions to Egypt. An alliance with the explorer's bluestocking daughter could bring Lucas closer to the truth about what happened…or it could lead him to a more dangerous love than either he or Cecily could have imagined…
5.The Rules of Scoundrels series by Sarah MacLean
Four aristocrats, exiled from society, now royalty in the London underworld.
Four loves, powerful enough to tame the darkness and return these fallen angels to the light.
The first book in the series is
A Rogue by Any Other Name
What a scoundrel wants, a scoundrel gets...
A decade ago, the Marquess of Bourne was cast from society with nothing but his title. Now a partner in London's most exclusive gaming hell, the cold, ruthless Bourne will do whatever it takes to regain his inheritance—including marrying perfect, proper Lady Penelope Marbury.
A broken engagement and years of disappointing courtships have left Penelope with little interest in a quiet, comfortable marriage, and a longing for something more. How lucky that her new husband has access to such unexplored pleasures.
Bourne may be a prince of London's underworld, but he vows to keep Penelope untouched by its wickedness—a challenge indeed as the lady discovers her own desires, and her willingness to wager anything for them... even her heart.
Spindle Cove, nestled in a peaceful corner of Regency Era England, has long been known as "Spinster Cove," due to its preponderance of unwed ladies of "delicate constitutions"--and that's the fictional setting for a delightful historical romance series by Tessa Dare.
The first book in the series is
A Night to Surrender
elcome to Spindle Cove, where the ladies with delicate constitutions come for the sea air, and men in their prime are... nowhere to be found. Or are they?
Spindle Cove is the destination of choice for certain types of well-bred young ladies: the painfully shy, young wives disenchanted with matrimony, and young girls too enchanted with the wrong men; it is a haven for those who live there.
Victor Bramwell, the new Earl of Rycliff, knows he doesn't belong here. So far as he can tell, there's nothing in this place but spinsters... and sheep. But he has no choice, he has orders to gather a militia. It's a simple mission, made complicated by the spirited, exquisite Susanna Finch—a woman who is determined to save her personal utopia from the invasion of Bram's makeshift army.
Susanna has no use for aggravating men; Bram has sworn off interfering women. The scene is set for an epic battle... but who can be named the winner when both have so much to lose?
3.The Montgomerys and Armstrongs series by Maya Banks
The first book in the series is Never Seduce a Scot
Eveline Armstrong is fiercely loved and protected by her powerful clan, but outsiders consider her "touched." Beautiful, fey, with a level, intent gaze, she doesn't speak. No one, not even her family, knows that she cannot hear. Content with her life of seclusion, Eveline has taught herself to read lips and allows the outside world to view her as daft. But when an arranged marriage into a rival clan makes Graeme Montgomery her husband, Eveline accepts her duty—unprepared for the delights to come. Graeme is a rugged warrior with a voice so deep and powerful that his new bride can hear it, and hands and kisses so tender and skilled that he stirs her deepest passions.
Graeme is intrigued by the mysterious Eveline, whose silent lips are ripe with temptation and whose bright, intelligent eyes can see into his soul. As intimacy deepens, he learns her secret. But when clan rivalries and dark deeds threaten the wife he has only begun to cherish, the Scottish warrior will move heaven and earth to save the woman who has awakened his heart to the beautiful song of a rare and magical love.
When an unexpected inheritance elevates the Hathaway family to aristocracy, they find new challenges in navigating the intricacies of London society--and new desires. Lisa Kleypas' historical romance series is sensual and compelling, with lords and ladies, gypsies and governesses--all harboring dark secrets and secret passions.
Preceeded by the Wallflowers series.
The first book in the series is Mine till midnight
Their lives defy convention.
When an unexpected inheritance elevates her family to the ranks of the aristocracy, Amelia Hathaway discovers that tending to her younger sisters and wayward brother was easy compared to navigating the intricacies of the ton. Even more challenging: the attraction she feels for the tall, dark, and dangerously handsome Cam Rohan.
Their desire consumes them both.
Wealthy beyond most men's dreams, Cam has tired of society's petty restrictions and longs to return to his "uncivilized" Gypsy roots. When the delectable Amelia appeals to him for help, he intends to offer only friendship—but intentions are no match for the desire that blindsides them both. But can a man who spurns tradition be tempted into that most time-honored arrangement: marriage? Life in London society is about to get a whole lot hotter…
1. Love By Numbers series by
Sarah MacLean
The first book in the series is
Nine Rules to Break When Romancing a Rake
A lady does not smoke cheroot. She does not ride astride. She does not fence or attend duels. She does not fire a pistol, and she never gambles at a gentlemen's club.
Lady Calpurnia Hartwell has always followed the rules, rules that have left her unmarried—and more than a little unsatisfied. And so she's vowed to break the rules and live the life of pleasure she's been missing.
But to dance every dance, to steal a midnight kiss—to do those things, Callie will need a willing partner. Someone who knows everything about rule-breaking. Someone like Gabriel St. John, the Marquess of Ralston—charming and devastatingly handsome, his wicked reputation matched only by his sinful smile.
If she's not careful, she'll break the most important rule of all—the one that says that pleasure-seekers should never fall hopelessly, desperately in love.