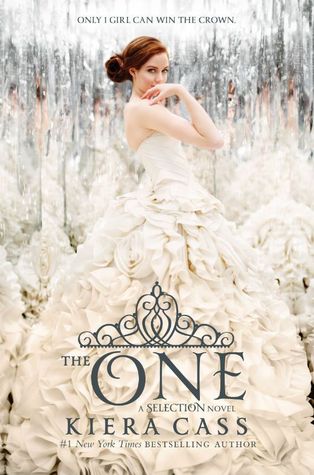 Rating 5/5 stars
Publication Date May 6 2014
The Selection changed the lives of thirty-five girls forever. And now, the time has come for one winner to be chosen.
America never dreamed she would find herself anywhere close to the crown—or to Prince Maxon's heart. But as the competition approaches its end and the threats outside the palace walls grow more vicious, America realizes just how much she stands to lose—and how hard she'll have to fight for the future she wants.
From the very first page of The Selection, this #1 New York Times bestselling series has captured readers' hearts and swept them away on a captivating journey... Now, in The One, Kiera Cass delivers a satisfying and unforgettable conclusion that will keep readers sighing over this electrifying fairy-tale long after the final page is turned.
I wanted everything from him and everything for him, because I wanted every piece of him.
Happy and sad tears were in my eyes by the time I finished the book. Sad because bringing down the Southern rebels didn't come without a price and something happened during that, that made my heart stop. Happy because that something was remedied and because I attended the royal wedding. It might have been through America's point of view, but it still counts. I won't say if America was the bride or just a wedding guest since almost all the selection was present (I am telling you that so you won't rule it out and say that America was the bride).
I kept getting angry at America because she never took the opportunities that were presented to her to tell Maxon about Aspen and him being in the palace. She should have said something instead of keeping it secret and risking Maxon finding it out. I liked America more than I disliked her though. It wasn't only because she knew from the beginning who she wanted and didn't annoy me with thoughts about who she should choose. She fought to be with the man she loves. And his identity was clear from the first page.
America fights for what she believes is right, is fair to the others, she is kind to them and she is kind. Maxon is his usual charming self and if I can forget how he acted after the bomb that was dropped the day of the final choosing (I know that he was hurt, but I still didn't like it) I can say that he was the best prince I have ever had the pleasure to meet. He is the only prince I have ever wanted. Aspen was surprisingly not annoying in the book and I actually liked him. Now I can read his novella without being prejudiced.
Celeste became a favorite character in the trilogy, despite all the things she had done. I know she regretted them. I am the only one who was sad after the way her story ended? I don't think so. What I think though is the fact that she author made her have a change of heart to make us feel worse in the end. It would have been better if I hated her. Speaking of hate I would vote in the category most hated character Maxon's father aka the king. His only goal was to make America look back or her life a little worse. August and G. were two pleasant additions to the story and I wouldn't mind seeing them more in their own book (hint, hint).
Every time I will see a photo of women smiling while they drink tea I will think of America and her two lady friends talking about money and guns.
Maxon's plan about the castes is brilliant and the only thing that is acceptable to be done. He is going to be the best king Illea has ever seen. With the right queen, of course.
To be honest, I felt a little overwhelmed when I got to the last page. I didn't want to let the story go. The One was a great end to an amazing trilogy that will always be one of my favorites. I plan to re-read the whole trilogy one day.