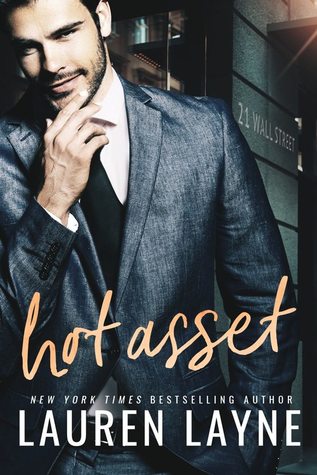 Hot Asset
21 Wall Street
Releasing May 22
nd
, 2018
Montlake
Blurb
A sexy agent hounds Wall Street's hottest new wolf in an exhilarating novel from New York Timesbestselling author Lauren Layne.
Ian Bradley is the definition of a Wall Street hotshot: seven-figure salary, designer suits, and a corner office. His drive off the floor is just as potent. Every woman who knows him has felt the rush. But now he's met his match in Lara McKenzie—a woman with the power to bring Ian to his knees.
An ambitious, whip-smart daughter of FBI agents, Lara is a rising star in fighting white-collar crime. Her latest case—the investigation of Ian Bradley for insider trading—could make her career. She knows a scoundrel when she sees one. Ian fits the bill: a cocky, ridiculously handsome bad boy with a slick swagger.
She'll do anything to prove he's guilty. He'll do anything to prove he's not. But it's only a matter of time before their fierce battle of wits gets oh so hot and personal. Now, taking down Ian has become more than business for Lara. It's become a pleasure—and there's more at risk than she ever dreamed.
"
[A] playful romance…Layne populates her world of high-stakes finance with charismatic characters, and the fast-paced story works well with the simmering sexual tension between the leads…It's easy to root for this couple."
—
Publishers Weekly
"
Layne can always be counted on to create an engaging, steamy, and thoroughly rewarding reading experience."
—RT Book Reviews
Buy Links:
Review:
From the first couple of pages of this book, I got an impression on Ian and I couldn't shake it off. He was c**ky as hell. And I am not even allowed to say the word because an author trademarked it. I didn't think of him as a douche as he suggests. Just as someone a little overconfident. I was worried at least three times that he would go and sleep with a woman that wasn't Lara and I had no faith in him. He didn't inspire me to. I wasn't a big Ian fan, but that didn't ruin the time I spend reading the book. I was a big fan of Lara and that balanced things for me. She is a good lady and I loved how dedicated she was. She is a good person and when I questioned her dedication she proved me wrong. She is stronger and more dedicated than I thought and that made her the best character in this novel.
During this story, we see the other two couples who will get a book and I can't decide whose story I want to read first. Both couples are interesting for different reasons and I can't wait for their stories. On the plus side, each book will be released soon after the other and I won't have to wait for long.
Overall the book was good. It also helped set the story for the next two couples without stealing the spotlight from the two main characters. It's a very good beginning for a new series.
Author Info
Lauren Layne is the
New York Times
and
USA TODAY
bestselling author of more than two dozen romantic comedies. Her books have sold over a million copies, in eight languages. Lauren's work has been featured in
Publishers Weekly
,
Glamour
,
The Wall Street Journal
, and
Inside Edition
. She is based in New York City.
Author Links: