From New York Times Bestselling author Gena Showalter, comes the next standalone romance in the Original Heartbreakers Series—CAN'T HARDLY BREATHE!
Order your copy today!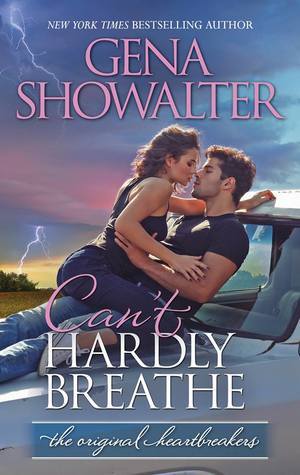 CAN'T HARDLY BREATHE Synopsis:
New York Times bestselling author Gena Showalter returns with an irresistible Original Heartbreakers story about a woman who's never felt desired and the man who wants her more than air to breathe…
Bullied in high school, Dorothea Mathis's past is full of memories she'd rather forget. But there's one she can't seem to shake—her longstanding crush on former Army Ranger Daniel Porter. Now that the sexy bad boy has started using her inn as his personal playground, she should kick him out…but his every heated glance makes her want to join him instead.
Daniel returned to Strawberry Valley, Oklahoma to care for his ailing father and burn off a little steam with no strings attached. Though he craves the curvy Dorothea night and day, he's as marred by his past as she is by hers. The more he desires her, the more he fears losing her.
But every sizzling encounter leaves him desperate for more, and soon Daniel must make a choice: take a chance on love or walk away forever.
Preorder CAN'T HARDLY BREATHE here!
Review:
Rating: 3.5 out of 5 stars
Can't hardly breathe is the fourth book in a series that was supposed to be a trilogy I believe by Gena Showalter. This book and the next two that follow could be a spin-off of The Original Heartbreakers and the readers would still read it. While I was reading the book I realized one thing. I will always strongly dislike Jessie Kay. I might have not remembered her name at first. but when there was a mention of a bully in Thea's past she was the first person who popped into my mind. I liked Harlow (the actual bully) a lot more than her which is sad. And I am not touching her book with a ten-foot pole anytime soon. That book will stay in my TBR forever.
The weird and bipolar thing about me and this book is this, I liked the story, but I disliked the characters. If someone could magically remove the two main characters and keep the secondary I would serve him for life. Daniel and I didn't get along from the beginning. I decided I was ok with the opening chapter where Dorothea was cleaning the room after one of Daniel's one nighters. Which he was always having at the inn she owned. He couldn't find another place. A couple of chapters later Dorothea propositioned him and one of his thoughts was that when they did they deed he couldn't go back to the inn for a one nighter with another woman. This smelled like forever and HEA from the very first moment. Like back in high school when he was sweet talking Dorothea and shortly after he was doing non-platonic things with another girl he had been chasing her for a while. To be fair though once he started courting Dorothea he did everything in his power to win her over and I felt like he was the only one standing up for her.
Which is why I got so mad in the end. Dorothea forgave Holly way to easily and effortlessly for my liking. What Holly did was inexcusable and yet she got off easy. Daniel, on the other hand, ended up groveling and even if I didn't like him at first he was growing up on me. His relationship with princess and the way he was trying to do nice things for Dorothea made him a better person. I would have loved to see her realizing that Daniel was partially right too and she needed to apologize.
I don't understand why the men in the series have to be man whores. I honestly don't. Thankfully the hero of the next novel, Jude, is the exception. Brock on the other hand is the opposite. He was making sweet eyes to his heroine but ended up with another woman in the bathroom. I can tell is love at first sight. And what's up with his lady saying he needs sex and was so ok with that? Woman, a man needs water and food to survive. Next thing I know he will be saying that his and Lyndies relationship was love at first sight.
No matter what though, I will continue reading the series and I can hardly wait for the next book to be released.
About Gena Showalter:
Gena Showalter is the New York Times and USA TODAY bestselling author of the spellbinding
Lords of the Underworld
and Angels of the Dark series, two young adult series--Everlife and the White Rabbit Chronicles--and the highly addictive Original Heartbreakers series. In addition to being a National Reader's Choice and two time RITA nominee, her romance novels have appeared in Cosmopolitan (Red Hot Read) and Seventeen magazine, she's appeared on
Nightline
and been mentioned in
Orange is the New Black
--if you ask her about it, she'll talk for hours…hours! Her books have been translated in multiple languages. She's hard at work on her next novel, a tale featuring an alpha male with a dark side and the strong woman who brings him to his knees. You can learn more about Gena, her menagerie of rescue dogs, and all her upcoming books at
genashowalter.com
or
Facebook.com/genashowalterfans