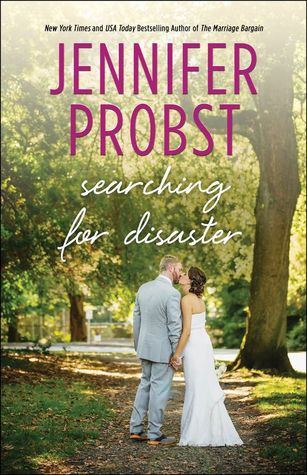 BOOK INFORMATION:
SEARCHING FOR DISASTER
by Jennifer Probst
Blurb:
The next highly anticipated novella in the Searching For series, a romantic spin-off of the Marriage to a Billionaire series from New York Times bestselling sensation Jennifer Probst.

When Isabella MacKenzie tries to move on from her disastrous past, Officer William Devine is determined to show her that love is the only way to heal. This sexy enovella, the final installment in Jennifer Probst's heartwarming Searching For series, follows the high-powered women of the popular matchmaking agency Kinnections, located in the small, picturesque town of Verily, NY.
Review:
Searching for Disaster is the final installment in Jennifer Probst's heartwarming Searching For series and it was almost perfect. I would have loved to read an epilogue with all the couples and their children together. I was kind of disappointed I didn't see it happening. I have loved the series from the first book till the last. Even with a short length the author managed to give me a lot of feels and she touched a delicate subject such as drug addiction. And of course let's not forget the animal shelter since animals and their protection was always a present in these books.
Liam and Lizzy are perfect for each other and I loved reading about them having so much in common. The prologue was a little sad because you see how Lizzy's destruction began but everything else worked out perfectly. I kept waiting for them to get together and when they did I kept turning the turning the pages because I had liked the story so much that I ended up needing more.
I am hoping the author will begin a new series that will include the love spell and connect it with this series.
----------------------------
AUTHOR INFORMATION:
Jennifer Probst - Bio:
Jennifer Probst wrote her first book at twelve years old. She bound it in a folder, read it to her classmates, and hasn't stopped writing since. She took a short hiatus to get married, get pregnant, buy a house, get pregnant again, pursue a master's in English Literature, and rescue two shelter dogs. Now she is writing again.
She makes her home in Upstate New York with the whole crew. Her sons keep her active, stressed, joyous, and sad her house will never be truly clean.
She is the New York Times, USA Today, and Wall Street Journal bestselling author of sexy and erotic contemporary romance. She was thrilled her book, The Marriage Bargain, was ranked #6 on Amazon's Best Books for 2012. She loves hearing from readers. Visit her website for updates on new releases and her street team at
www.jenniferprobst.com
.
Website:
www.jenniferprobst.com
Facebook Fan Page:
https://www.facebook.com/jenniferprobst.authorpage
Twitter:
https://twitter.com/jenniferprobst
Goodreads:
https://www.goodreads.com/author/show/2965489.Jennifer_Probst