Genre: Contemporary Romance
Rating: 3.5 out of 5 stars
Release Date: December 7, 2015
Take.
Fans of Samanthe Beck's Private Practice or No Strings Attached by Nicolette Day, will devour the final installment of the Out of Uniform series by NYT and USA Today Bestselling Author Katee Robert.
Synopsis:
Erin Robinson is having an epically bad year. Her blossoming career on Broadway tanked, forcing her to crawl back to home to Wellington. The icing on her failure cake? Her former on-again, off-again fling is in town, and the sexy Marine is taking up way too much space.
Warren Davis always knew Erin was special, which is exactly why he can't have her. A girl like her deserves something permanent—something neither of them wants. But now that they're both back in town and she's right there in front of him, a challenge in her eyes he's never been able to resist, he's questioning everything.
That challenge quickly escalates into an epic game of Truth or Dare. Erin's sure she's got him on lock, but as the night progresses, Warren's dares intensify, drowning her in lust. But with the past still breathing down their necks, there's no way either of them can win...
See where it all began with book 1 of the Out of Uniform series,
In Bed with Mr. Wrong
.
Get More information at:
Goodreads
|
Amazon
|
Barnes & Noble
|
Kobo
|
iTunes
Review:
His to Take is a novella in the Out of Uniform series and I believe the final book in the series. It follows Erin and Warren, a couple who has a long history and it's finally going to get its happy ending. That is if they don't ruin everything. Both have their problems, Erin especially. I don't know if the fact that I haven't read any of the previous books in the series prevented me from somehow understanding her better or if the confinement of the size of the book were at fault, But I couldn't feel sympathetic towards her or understand her problems. To me it seemed like the author needed something to create drama. Warren doesn't do much and that's the problem. He needed to be more persistent when it came to his relationship with Erin.
I am not the kind of person how doesn't like how the couple falls immediately in love or how rushed things might be in order to keep things short. I like novellas because they offer romance without the drama a full length novel might have, but in this case I wanted to see more of Erin and Warren in the early years of their lives and I wanted to know more about what they did in the last six years of their lives. It was just mentioned that whatever happened between them was opening for six years. I liked the final chapters the most because that's when the good part of the romance was in. I also wanted to know why both of them seemed to believe that the other was only in their one night stands and not in for the whole thing.
The book wasn't bad and that's the reason I am giving it 3.5 stars. The things that displeased me were mentioned above and I don't think there is anything else to say about it. I am hoping that when I read the books in the series I hadn't the chance to read yet I will get Erin more and that's why I am not going to recommend to read this book as a stand alone. I am recommending to read the other books in the series s=first and then dive into His to take.
Excerpt:
"You haven't even heard what I'm proposing."
"I don't have to. I know you. And as great as an hour of hot sweaty sex would be, I'm not in the mood."
That, more than anything else, confirmed there was something wrong. He tamped down the urge to ask what it was. They weren't that kind of friends. Not yet. They were two people who'd hooked up a handful of times in the last six years. That was it.
That was what he was trying to change.
So he nudged her shoulder, hating that the winter made so many layers necessary. It was only his imagination making him think he could feel the heat of her body through her coat from that tiny touch. "Truth or dare, Freckles?"
Her jaw dropped. "You're joking."
"We haven't done it in years." Not since the night they met.
"Right. Because we're grown-ass adults, and truth or dare is for kids."
He watched the memories reflected in her hazel eyes. Truth or dare was how they'd gotten started in the first place. They'd been with a group of friends down at Mill Creek and someone had suggested the game. It had been a wild night of the kind of trouble only teenagers could get into, and it had culminated out in the middle of the creek where another of their friends dared Erin to kiss Warren.
And, holy fuck, had she kissed him.
Erin looked around. "Since we're on the same page, why are we hiding in the Joneses' old barn? I know Wellingford is pretty countrified but this is ridiculous." They'd built a bigger, newer barn on the other side of their property last year, so this one was only being used for extra storage and was guaranteed to be deserted, but that didn't mean she wanted to camp out in it. She wanted to keep moving, to get back into town and back to their game. The faster he dealt out another dare to her, the faster she could win and move on with her life.
He went to his knees in front of her, his big body sliding between her thighs and spreading her legs. "I still have my dare to complete."
"Uh, no, you don't. You completed it back in Miss Nora's front yard." She pointed even as hurt blossomed in her chest. That kiss had been freaking amazing and he was acting like it hadn't happened at all.
He shot her a look that stole her breath, his dark eyes so heated it was a wonder she didn't melt into a puddle at his feet. "That wasn't a kiss."
"I was there. Pretty sure it was a kiss."
He pulled off one of her boots and then the other, and she was so shocked that she let him. Warren ran his hands up her legs, making her wish she'd worn something flimsier than her favorite pair of jeans. "I don't know who you've been kissing over the last year, but they obviously haven't been doing it properly."
She bit her lip when his chilled fingers brushed the top of her jeans, slipping beneath her shirt to stroke along her skin. Why was she trying to argue her way out of this…whatever it was? "I've been kissed plenty fine in the last year."
"No, you haven't." He abruptly tightened his grip and jerked her to the very edge of the bench.
Her breath stalled out, and she could only watch as he unbuttoned her jeans and worked them down her legs, never taking his gaze from her face. Erin licked her lips. "How would you know?"
"Because, Freckles, you haven't been kissed by me."
About Katee Robert: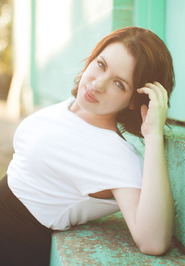 New York Times and USA TODAY bestselling author Katee Robert learned to tell her stories at her grandpa's knee. She found romance novels at age twelve and it changed her life. When not writing sexy contemporary and speculative fiction romance novels, she spends her time playing imaginary games with her wee ones, driving her husband batty with what-if questions, and planning for the inevitable zombie apocalypse. Connect with Katee at:
Website
|
Facebook
|
Twitter
|
Google +
|
GoodReads
|
Instagram
|
Tumblr
|
Youtube
a Rafflecopter giveaway
Direct link: http://www.rafflecopter.com/rafl/display/b050ef29163/?