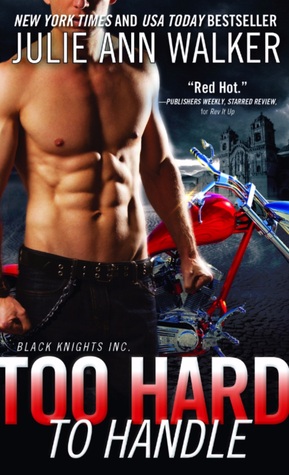 Publication Date: September 1, 2015
New York Times and USA Today bestselling author Julie Ann Walker continues her red-hot Black Knights Inc. series in rough-and-tumble Peru
Dan "The Man" Currington is back in fighting form with a mission that takes him four thousand miles south of BKI headquarters, high in the Andes Mountains of Peru. He's hot on the trail of a rogue CIA agent selling classified government secrets to the highest bidder, when Penni DePaul arrives on the scene. Suddenly the stakes are higher, and keeping Penni safe becomes Dan's number one priority.
And this time she's ready
A lot has changed since former Secret Service Agent Penni DePaul last saw Dan. Now a civilian, she's excited about what the future might hold. But before she can grab onto that future with both hands, she has to tie up some loose ends-namely, Dan Currington, the man she just can't forget. And a secret that's going to change both their lives-if they can stay alive, that is.
Too hard to handle is the first book I read in the Black Knights Inc. series and the first book I read from this author. In the beginning I was sure that I was going to add the previous books in my to be read list, but as the book came to an end, I found myself doubting that decision. Everything was going very well until Dan opened his mouth and everything went to hell. He disappointed me. A story that happened mostly in 2 days expanded to 6 more months, which was something I didn't like. That made me wonder if something similar happens in the other books and I lost my enthusiasm for the series.

I wonder if the readers got the chance to read a part or be teased about Dan and Penni's story like we are teased in this book about Chelsea and Dagan's relationship. I will definitely read their story.

I am giving this book point because it had more action and mystery than the last book I read that belonged in the romantic suspense category, but I am not sure if I am going to recommend this book to anyone. That thing about Penni's nickname and the months that followed made me reluctant to say to someone to read the book. I am sure that once you read the part I am talking about, you will find it silly, but I just couldn't get past it.