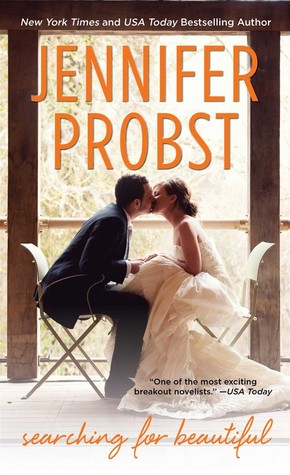 Rating 5/5 stars
Release Date: May 26th, 2015
BOOK SUMMARY:
Genevieve MacKenzie has her life completely under control. About to wed the charming Chief doctor at the local hospital, she's an up-and-coming surgeon with everything she could ever want. Until an escape through the church window on the day of her wedding sends her life into a tailspin…and flings her right into her best friend's arms.
When Wolfe catches his best friend falling out a window on her wedding day, he doesn't ask questions. He whisks her away, determined to watch over her and discover the truth behind her desperate escape. But when his feelings turn more than platonic, he realizes he may risk his most important relationship in order to protect his damaged heart, and the woman he loves.
Can Genevieve and Wolfe's friendship turn into something deeper—or is it already too late for true love?
Goodreads link:
https://www.goodreads.com/book/show/22609089-searching-for-beautiful
PURCHASE NOW
Amazon:
amzn.to/1Gl7eWM
Barnes & Noble:
bit.ly/1DR9t0b
Kobo:
bit.ly/1F44yX8
iTunes:
apple.co/1BkUokk
I always love it when the title of the book is explained or mentioned in the story. I also love it when I see characters from the previous books appearing in the one I am currently reading and in this book I got the chance to see the characters from the Marriage to a Billionaire series and I will be looking forward to seeing them even more.
Wolfe is a character introduced to us in the Marriage to a Billionaire series and soon became a fan favorite. Finally, he got the chance to get his own happy ending. That is if he can take the chance and not lose it because he is stubborn. Gen is the person that can make him happy and Wolfe is the person that helps remember who she truly is again after what her husband made her go through.
I liked how the author showed that a person can be abused by someone else, not from the fists but from the words and actions alone. Usually the heroines are physically abused, but this time it was mental and I think the author deserves a bravo for showing that aspect.
I don't remember what was revealed about Wolfe's past in the previous books so I won't reveal anything other than the fact that we get to see Wolfe's memories of some events of his past from his point of view.
Wolfe and Gen make a great couple together. My favorite part of the book is the time after Gen's escape from the wedding and before Wolfe returns Gen to her home. The ending was simple and perfect and the epilogue was great. When I saw a spider the other day I remembered Wolfe and how he would have reacted if he saw the spider.
Ending this review I would like to add that Arilyn and Stone seemed very intruding together and I will be looking forward to their story.
Author Information
Jennifer Probst wrote her first book at twelve years old. She bound it in a folder, read it to her classmates, and hasn't stopped writing since. She took a short hiatus to get married, get pregnant, buy a house, get pregnant again, pursue a master's in English Literature, and rescue two shelter dogs. Now she is writing again.
She makes her home in Upstate New York with the whole crew. Her sons keep her active, stressed, joyous, and sad her house will never be truly clean.
She is the New York Times, USA Today, and Wall Street Journal bestselling author of sexy and erotic contemporary romance. She was thrilled her book, The Marriage Bargain, was ranked #6 on Amazon's Best Books for 2012. She loves hearing from readers.
Visit her website for updates on new releases and her street team at www.jenniferprobst.com.
Website:
www.jenniferprobst.com
Facebook Fan Page:
https://www.facebook.com/jenniferprobst.authorpage
Twitter:
https://twitter.com/jenniferprobst
Goodreads:
https://www.goodreads.com/author/show/2965489.Jennifer_Probst
a Rafflecopter giveaway