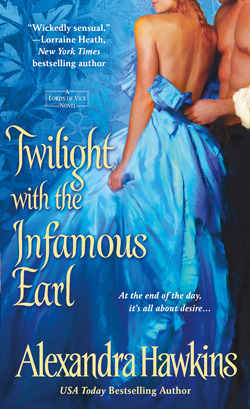 Rating: 5/5 stars
Publication Date November 26th 2013
Luck Be A Lady
Lord Chillingsworth's reputation precedes him—the infamous "Frost" is as legendary on the field of honor as he is in the bedroom. Which makes it surprising that young Emily Cavell has taken up the cause of closing Frost's favorite gambling hell. Who does this brazen, flame-haired beauty think she is?
Love: A Roll Of The Dice?
Emily's vendetta is personal: She is determined to take a pound of flesh from Frost, who ruined her sister. But the man she meets is not the cold-hearted devil she imagined—and is twice as handsome to boot—and soon Emily finds herself falling for him. Their battle of wills quickly ignites into blazing desire. Could it be that the most jaded Lord of Vice is finally willing to risk everything and gamble on her heart? Or is true love only a fool's game?
Review:
I skipped 3 books in the series to read Twilight with the infamous earl Frost is much warmer than his name will make someone think. Honestly the only time he was cold was close to the end, you know the part where someone makes a stupid decision and the couple separates. The book was tame, but the chemistry between the two characters was great. Who can say that the idea of being inside Frost's head sn't tempting? He did have a matchmaking role in the previous books.
"Hunter may be easy to distract, but I'm not," Dare interjected. "What is going on between you and Emily Cavell?"
"Nothing."
At least not at the moment.
Dare's eyes widened in growing wonder. "It's worse than I thought."
Frost did not have to feign his bewilderment. "How so?"
Hunter slowly nodded. "You're correct, Dare. How long has this been going on?"
Both gentlemen were daft. "I have no idea what you are babbling about."
"Hmm … defensive," Hunter noted. "And he's clearly lying. Another sign."