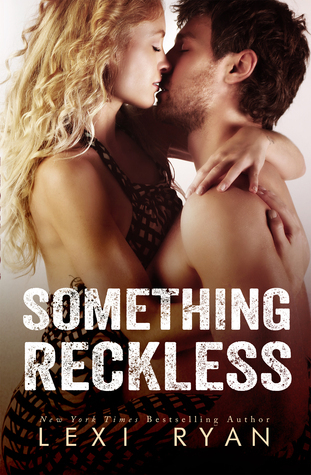 Release: December 22, 2014
Dive into a world of secrets and temptation. Read the first novel in the sizzling Reckless and Real series from NYT bestselling author Lexi Ryan...
He talks dirty to me, but I don't know his name.
He wants to tie me up, but I don't know his face.
He turns me on, but I couldn't point him out in a crowd.
I've fallen for an anonymous stranger, and now the anonymity ends. I want more than typed secrets and texted promises. I want something reckless. Heat. Passion. The thrill of being entirely possessed.
Because I suspect this anonymous stranger isn't a stranger at all.
~~
Lizzy Thompson met Riverrat69 online through Something Real, a service promising to deliver meaningful relationships by forbidding its users to share names or photos until they've reached a certain benchmark. She was looking for love. He was researching an investment. They hit it off. Talked and flirted, hid behind screen names and cartoon avatars.
Now they're breaking the rules and meeting in person. But Liz is prepared. She's picked up hints and followed clues. She's ninety-percent convinced she's discovered the identity of her dirty-talking online friend.
She wonders if her ex-lover Sam Bradshaw knows her identity too.
When she rolls the dice on one reckless night, her chance at something real could crumble.
**SOMETHING RECKLESS is book 1 in the sizzling new Reckless and Real series and includes the prequel, SOMETHING WILD, for your convenience. Liz and Sam's story concludes in SOMETHING REAL, coming in March 2015.**
The Reckless and Real Series Includes:
SOMETHING WILD (Liz and Sam's story begins - novella)
SOMETHING RECKLESS (Liz and Sam's story continues)
SOMETHING REAL (Liz and Sam's story concludes, coming March 2015)
Review:
2.5 stars

I considered giving up the book more than once, but since I received the book to write an honest review I had to finish it in case it became better and I ended up liking it. And all that before the 29th so I was in the timeline. I kind of forced myself to finish it and I can' say that I liked it much. The twist in the end was my favorite part, though it's a little gross and definitely immoral.

Liz made my top 10 of the I want to smash their head into a wall and then force something into their head since it seems empty. She isn't a blonde bimbo, but she is really stupid. If she had opened her mouth and said something I am sure the chaos that will happen in the second book, wouldn't have happened. I hated that while she wanted to learn things from Sam's past, she never said anything. And yeah Liz sweety, Connor is totally harmless. He only sees you as a friend and doesn't want to get into your pants.
About the Author:
New York Times and USA Today bestselling romance author Lexi Ryan's novels have been
described as intense, emotional, and wickedly sexy. A former college professor, she now writes full-time from her home in Indiana, where she lives with her husband, two children, and a neurotic dog. Find her on Facebook or Twitter to chat about books, TV, and her children's latest antics.